Kibbutz Lotan is an Eco-Jewish intentional, collective community based on a creative approach to egalitarian Judaism and a deep commitment to environmental protection.
Hands-on Living and Learning Programs:
Green Apprenticeship - 4 week Sustainable Development & Permaculture Design Certification includes organic farming and building with your hands .
Eco-Experience - 1 week (or more) work experience immersion
Practical Workshops - Local Food Production, Natural Building, Sustainable Community, Alternative Technologies specifically tailored to your university, school, youth movement, community group or family
Nestled on the majestic foothills of the Edom mountains 35 minutes from Eilat, Lotan EcoTourism offers a guest house surrounded by desert  quiet and stillness, the Arava\'s most beautiful swimming pool, the Tea House restaurant and local artists gallery, birdwatching and birding park, eco-workshops and courses in sustainability and short tours around the kibbutz\'s eco-attractions.
An Eco-Jewish community linking the spirit and the earth, educating its children to love and protect the environment, connecting them to their Jewish heritage while adapting tradition to contemporary lifestyles.  It is a tight knit and pluralistic community where individuals and families can express their Jewish commitment in manners meaningful to them.
Contact us for more information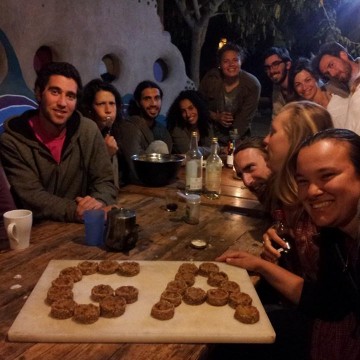 Green Apprenticeship The Green Apprenticeship (GA) is a sustainable development and permaculture design course. The GA trains apprentices to understand and be able to identify and create sustainable solutions for
Read More »
Eco-Experience Eco-Experience participants join our staff in our daily hands-on work, which can include organic gardening, building with mud or maintaining our Nature Reserve, and receive introductory lessons in Permaculture
Read More »
The GHANA mission starts with a 1 month intensive training in Permaculture and Ecological Design at the Center for Creative Ecology at Kibbutz Lotan located in the Negev in Southern
Read More »