Alex Cicelsky, Mike Kaplin and Mark Naveh have worked together since 1996 as educators, environmental activists and community facilitators (as well as farmers, welders and researchers). In 2000 they established the Center for Creative Ecology as a vehicle for researching and demonstrating a holistic approach to developing a culture of stewardship towards the environment within the framework of collective community responsibility to all its members. They know how to get their hands dirty, have fun, and get others involved. They want to share their experience and inspirational creativity with you too.
Their base of operation has been in Israel's southern Arava Desert which is one of the most arid deserts in the world. They've developed systems for greening the desert, organic vegetable gardens, water treatment systems, renewable energy systems, super energy efficient buildings using earth plasters and straw bales, recycling systems for municipal waste and nature reserves. They have developed educational programs that partnered with the Global Ecovillage Network - Gaia Education Ecovillage Design Curriculum and UMass Amherst – Living Routes International Studies in Sustainable Communities. University students, professional associations, academics and government groups have attended their training programs. The Peace, Justice and the Environment – Green Apprenticeship course was deemed an official contribution to the United Nations Decade of Education for Sustainable Development (UNDESD 2005-2017) [1][2]
Our goal is to share our approach to developing solutions that are site and climate specific while working with the local stakeholders and aid agencies. We have worked with kindergarden educators and senior living facilities, academics from Africa and farmers from Asia. We look forward to working with your organization's departments about incorporating ecological education, creating strategies and practical solutions to Green your Business.
For further information please contact:
Mark Naveh
 [1] Environmental Anthropology Engaging Ecotopia: Bioregionalism, Permaculture, and Ecovillages. Joshua Lockyer, James R. Veteto, Berghahn Books (2013), pp 272
[2] Highlights on DESD Progress to Date. UN Decade of Education for Sustainable Development report, January 2007. 
Department of Center for Creative Ecology Consultancy
Prepared professional training programs which include the Sustainable Israel and Green Apprenticeship Permaculture Design and Ecovillage Design Education programs which in collaboration with the Global Ecovillage Network are an official contribution to the United Nations Decade of Education for Sustainable Development 2005-2014 and has the endorsement of UNITAR – United Nations Institute for Training and Research. 
Planning and project management of ecological bird watching facilities for Israel's southern region of the International Migratory Bird Park Without Borders together with the Society for the Protection of Nature in Israel (SPNI) – Israel Ornithological Center.
Planning of "Eco-Kibbutz" dormitories, kitchen and dining facilities for Greene Family Camp, Bruceville, Texas USA.
Energy efficient housing for the Eilot region including Kibbutz Yahel, Kibbutz Lotan, Kibbutz Grofit.
Green Building Advisor for the Eilot Regional Green Elementary School
Steering committee for the Eilot Regional Council's Theatre and Art Gallery.
Composting and Waste Management for Nigerian Academics in conjunction with Nigerian cleantech entrepreneurs.
Developing an international network of natural builders and organic gardeners  including the Yesh Meayin Eco-Education Farm, and Marda Palestine Permaculture Education Center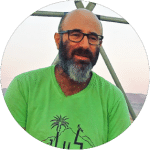 Consultant for the Israeli Permaculture Association two years Diploma program and also Permaculture Projects in Israel
Writing articles and manual instructors of ecological information about mud building, earth construction, permaculture to B'Yadayim
Consultancy of a Straw Bell Mosque building in Wadi El Naan
Consulting all the Alumni projects all around the world.
Speaking topics and workshops
It is possible to book Mark, Alex and Mike to speak or provide workshops at your event
Co-founder, Core Faculty Member
Pioneer, expert on community building, peacebuilding and sustainability programs
Speaking Topics
From Crisis to Sustainability: Historical roots of the current crisis and the shift to a more sustainable paradigm
The Ecology of Community: building sustainable community based on lessons from nature
Ecological Economics, the Ecological Footprint and the Dilemma of Growth
Global to Local: Local Economies, Ecovillages and Transition Towns
Connecting Ecology with Spirituality
Concepts of Development
Desert Ecology
Workshops
Nonviolent Communication: Beyond Conflict – interaction, integration
Community design seminar
To book visit www.speakersassociates.com/speaker/Mark-Naveh
Renewable Energy & Alternative Technologies
Pioneer and renowned natural, ecological and energy efficient building architect
Speaking Topics
Natural and ecological architecture
Renewable Energy & Alternative Technologies
Waste Water - Water harvesting, grey and black water systems, dry sanitation systems
Solar energy
Empowerment and Ownership: The Wadi El-Na'am Story. Case study and lessons learned from earth-building project in an unrecognized Bedouin village
Designing energy efficiency buildings
Construction using local, natural and recycled materials
Earthships, Strawbale Houses, Geodesic domes – energy efficient and earthquake resistant
Ecological design: determining sustainable design criteria
Ecological design passive solar technologies
Spirituality, cultural heritage and environmental design
Workshops:
Earth-building basics: earth mixes for bricks, monolithic walls and plasters, principles and practices
Earth-building challenges: integrating recycled waste as a construction resource
Geodesic domes: structures of the future, safe solutions for today.
Earth-Building Techniques and Principles: Examples from around the world
Alternative Technologies: Composting Toilets, Solar Ovens, Wastewater Treatment, Biogas
Intelligent, Energy-Efficient Design for Buildings
The bible and the mandala: what we can learn from ancient texts about living sustainably today
To book visit www.speakersassociates.com/speaker/Alex-Cicelsky
Pioneer and one of Israel's first and most famous Permaculturist
Speaking Topics
The synergistic garden and the future of food
The magic of compost: Building soil and soil care by making rich soil from food scraps
Organic gardening
Permaculture design
Sustainable agriculture
Biogas systems
Straw bale construction
Geodesic domes
Workshops:
The magic of compost: making rich soil from food scraps
Organic gardening workshop: Sheet-mulch gardens, potting and planting, seed balls
To book visit www.speakersassociates.com/speaker/Mike-Kaplin