Introduction to Appropriate Technology
With technologies like hybrid cars, we often forget about the ecological impact of technologies that we use daily.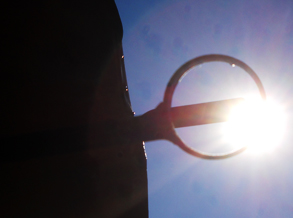 The technology that we will discuss is not the most cutting edge nor is it the most complex. In our case, we believe this technology to be the most sensibly planned. We consider these technologies to be the most appropriate uses of energy to accomplish the things needed in order to live, things like food and shelter.
These things needed in order to live, these neccessities to life, are often taken for granted and in turn overlooked as ecologically impactful. In order to reduce our carbon footprint, we need to be concious about the ecological impact of the basics as well as the new age technological peripheries.
Chapters
Solar Ovens - Cook food by harnessing the energy provided by the sun. Zero impact cooking methods!
Adobe Ovens - Build a backyard tradional pizza oven made from earth materials.
Mud Bricks - Our refined recipe to make your own bricks from earth materials, a zero impact building method!
Mud/Tire Benches - A step by step guide to building an bench reusing trash that would otherwise be thrown away and earth materials.
Straw Bale Construction - A zero impact building technique that has proven to last more than a hundred years.
Cob Building - A zero impact building technique that defies traditional architectural concepts.
Geodesic Domes - Discover the strongest, sturdiest, and most efficient architectural structure known to science.
Compost Toilets - More than one third of our average daily water consumption happens in the restroom. Cut this third out completely and turn your waste into 'brown gold'.
Earthships - A building technique that takes your home completely off the grid.
Thank you to Mike Kaplin for authoring these chapters. Mike is an educator for the Green Apprenticeship program and director of Kibbutz Lotan's Center for Creative Ecology.
Contact Lotan Center for Creative Ecology
kibbutzlotan@gmail.com
Tel: +972 8 6356935; +972 54 9799030
Toll free (while in Israel): 1800 2000 75