Join us for a 4 week practical training program in hand-on sustainable engineering, systems design and cooperative living. We'll be learning about designing, building and running of sustainable projects, while linking together ecological, social, economic and cultural aspects into a unified whole. We'll develop skills through hands-on work in our environmental education center, organic gardens, and alternative/natural building projects. We live in the EcoCampus – beautiful hand crafted domes – in Kibbutz Lotan, a desert oasis. At the end of the course participants receive an internationally recognized Permaculture Design Certification.
Green Apprenticeship Course Dates:
14 May – 12 June 2018
18 June – 17 July 2018
15 October – 13 November 2018
 26 November – 25 December  2018
 6 January – 1 February 2019
Live in our Eco-Campus and experience ecological living
Room and board (3 meals a day) for the duration of the program.
Rooms are equipped with beds, air conditioning, shelves, pillows, linens, and towels.
Shared accommodation (maximum 3 to a dome).
Meals are served either in the kosher kibbutz dining room (vegan/vegetarian options with meal or dairy) or we'll cook vegan/vegetarian (no fish) in our Eco-Campus kitchen.
Are you:
Looking for something different and unique to do in Israel
Interested in a study program that includes enviromental training and enviromental studies
Looking for a way to complement your university degree program with an internship experience
Interested in study abroad
Searching for gap year programs in Israel
Looking for a kibbutz experience
Looking for a short-term course as a birthright extension program
Looking for a summer program in Israel
Looking for a component for your iTrack /Maslul Ishi MASA program
Then the Green Apprenticeship could be the program you are looking for!
No prior knowledge is required to participate in the course. Because of the emphasis on practical work, and a bottom-up approach to engineering (big word for people who make things work), participants from diverse professional and academic backgrounds have been satisfied with the course, including those with little or no relevant experience in sustainability. The language of instruction is English or Hebrew (see course dates). Let's talk if you're concerned about being under- or overqualified.
Renewable energy systems
Grey water and black water systems
Composting toilets
Biogas
Solar cooking
Earth mix for building projects
How to test soil for building
Straw bale construction
Hands-on building projects using natural and recycled materials
Regenerative Community Development
Holistic worldview
Group dynamics
Reconnecting to nature
The global economy and the dilemma of growth
Localization and the economics of happiness
Permaculture & Ecological Design
Structural engineering for hand built houses
Passive solar & energy efficient design
Permaculture ethics and principles
Design techniques including: zone and sector, input and output analysis POBREDIM
Needs-based design projects 
Local food production through bio-diverse small scale farming
Companion planting, natural pest control 
Sheet-mulch, container & square foot gardening
Composting: theory & practice
Seed saving: theory & practice
Transplanting & sowing seeds
Weekly gardening and harvesting
Receive University Credits
Now you can receive college credit for participating in the Green Apprenticeship at Kibbutz Lotan.
Through a partnership with Paul Smith's College, an accredited private college in upstate New York,
Green Apprenticeship participants may receive 3 semester credits for successfully completing the
program.
www.paulsmiths.edu/study-abroad/israel/
The company is part of a multinational solar energy developer group that builds, finances and operates utility-scale photovoltaic solar projects in emerging markets. The company's co-founders build on their experience as pioneers in implementing utility scale photovoltaic solar systems in Israel (through Arava Power).
This is an internship opportunity for very limited number of students. 
To apply, please complete the online application and send us supporting documents via email: admissions@klotan.co.il
 1.  Complete the online application
 2. Scan of the first page of your passport (including your picture).
 3.  C.V. / resume showing where you have studied, worked etc.
 4.  One recommendation letter from an employer, teacher or mentor. 
 5.  A letter or certificate from your doctor stating that you are physically and mentally fit to work and study on kibbutz: in an intensive community setting and a harsh desert climate doing work that is physically strenuous at times.
7,400 NIS including full board and program
 A deposit of 1000 NIS is due upon acceptance (deducted from the full amount)
Come together and receive a discount – two or more people that register together receive a 5% discount each.
Questions? Call us at +972-54-979-9033 or write us admissions@kibbutzlotan.com
Mike Kaplin
The Center for Creative Ecology (CfCE) is a school for hands-on learning based on Mike's philosophy that everyone is a teacher and everyone can choose to Do instead of just talk. He is one of the first Permaculture Instructors in Israel and has taken the formal Permaculture Design Certification (PDC) outdoors into the garden and the workshop. Together with Mike you'll be planting food, mixing mud, constructing objects of beauty, maintaining conservation areas, having fun and laughing. As Director of the CfCE he oversees all of the staff's activities and the content of our programs. Observing and interacting with Mike is a first-hand experience in successful business leadership with a big heart.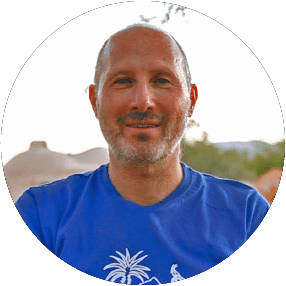 Alex Cicelsky
Alex teaches the theory of Permaculture Design, environmentally responsive architecture and renewable energy technologies. He mentors our Permaculture students during their course projects continues to support them as they're building their businesses around the world. In regards to the buildings he's designed on Kibbutz Lotan he says "We know how the buildings will save energy, that they meet safety standards and how much they cost. We don't know what they'll look like because that is in the hands of the people that join us to build them." In addition to his practical work in researching energy efficient buildings for deserts, he writes about the spiritual connections of religions to caring for the earth.
Mark Naveh
Before joining Kibbutz Lotan, Mark was an underwater researcher in Australia's Great Barrier Reef. His work in marine ecology has extended to human ecology, a deep concern for protecting the environment, and curiosity into how society needs to evolve. Mark leads in-depth nature tours in the desert, practical technology lessons and sessions in new forms of economics and community organization. Mark is active in Israeli-Palestinian co-existance education and trains our staff which hosts thousands of visitors each year.
Maya Galimidi
Maya is an International Ambassador of Global Ecovillage Network. With all her experience, Maya is now the Global Business Developer for Kibbutz Lotan Center for Creative Ecology to bring associations, governing bodies, academic world, students and businesses from all around the world together to learn sustainable living techniques to care for the earth, its resources, each other, and to open new visions in this field.
Deborah Dell'ariccia
Debby brings the joy of her youth in Italy to the desert. She is a Kundalini Yoga teacher and is an engaging group interactions facilitator of the Green Apprenticeship group and the other college groups that work and study on Kibbutz Lotan. She is also the coordinator for our Israeli post-high school "Year of Service" leadership training program. She loves to prepare and enjoy Italian food at our Solar Tea House Restaurant, theme nights and jam sessions.
Daniel Burstyn
Rabbi Daniel puts his theology to work as he manages the landscaping of Kibbutz Lotan which is completely dependent on drip irrigation to survive in the desert. He holds certificates in both Permaculture and Spiritual Direction. You'll get to know him from his lessons in irrigation and horticulture. He is a semi-professional vocalist, so you'll want to get him singing while fixing water lines.
"I took this program and it is one of the most memorable experiences of my life! The community is filled with great people and it was a very fun atmosphere to learn. Particularly special if you connect with Tikun Olam. I miss Israel, eat a pita for me."
"I have received a treasure box filled with tools and keys. The time in Lotan made me believe again that one can change on a large scale as long as you 'just do it' and don't get trapped in the fear of making mistakes."
Set off on a Desert Hike around Kibbutz Lotan and then explore our region's Israel National Trail ,Timna Park & the Ancient Copper MInes, Eilat Underwater Observatory, Eilat Coral Beach Nature Park, Scuba Diving, Snorkeling and Water Sports, Tour Petra and Jordan, the Dead Sea, Masada National Park, Ein Gedi National Park, Jerusalem, Biking Tours, Neot Semadar Restarant & Tours, Off Grid Village & Renewable Energy tours, Bird Watching tours, the Ramon Crater and much more…