Kibbutz Lotan's Center for Creative Ecology (CfCE) is unique within Israel in providing quality experiential environmental education within a supportive community striving for sustainability.
The CfCE has developed and demonstrates permaculture design techniques in extreme desert conditions, natural building methods, local organic food systems, renewable energy, sustainable waste management and alternative technologies. Our mission is to serve as a catalyst to inspire, motivate and empower people to build sustainable community and to take creative action for positive change towards social and environmental justice.
The CfCE manages Kibbutz Lotan's Nature and Migratory Bird Reserve, the EcoKef – Ecological Educational Park and the EcoCampus.
courses & workshops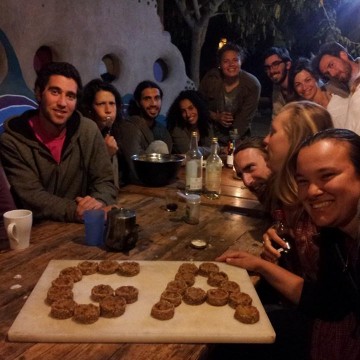 Green Apprenticeship https://youtu.be/a8922zvf2kw Kibbutz Lotan (a member of GEN-Europe since 2001) in Israel is now offering a 4 week intensive Green Apprenticeship (GA) course which combines hands-on training in sustainable
Eco-Experience Eco-Experience participants join our staff in our daily hands-on work, which can include organic gardening, building with mud or maintaining our Nature Reserve, and receive introductory lessons in Permaculture
The GHANA mission starts with a 1 month intensive training in Permaculture and Ecological Design at the Center for Creative Ecology at Kibbutz Lotan located in the Negev in Southern